Full Paediatric First Aid - Two day practical
Group bookings only (at your place of work)
This comprehensive course is presented at your nursery or school over Two Days of your choosing. The result is a memorable and engaging course that provides learners with the skills, knowledge and confidence to act effectively when paediatric emergencies arise.
The course meets all OFSTED/EYFS requirements and CSSIW and Scottish Early Years
Who is this course is most suitable for?
This course has been designed for Early Years Practitioners, Childminders and Nannies. It meets all EYFS/Ofsted requirements.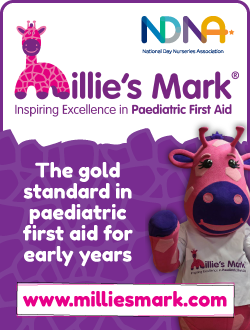 About the course
Comprehensive trainer-led practical training
Flexible start / end times to suit you
Free online annual refresher
Certificate of Achievement and window sticker for your setting
Professional, qualified, and dynamic trainers
Suitable for new or experienced first aiders
First Aid Training Drill Kit for your setting to keep your skills updated (costs apply)
Fully certified for 3 years
Our Full Paediatric First Aid - Traditional Course covers the following subjects:
Roles & Responsibilities of the First Aider

Assessing an Emergency Situation & Prioritising Action

Unresponsive Casualty (Not Breathing) - Infant & Child

Unresponsive Casualty (Breathing) - Infant & Child

Choking - Infant & Child

Head Injuries

Seizures

Burns, Bleeds & Shock

Anaphylaxis

Croup

Asthma

Diabetes

Fevers & Febrile Convulsions

Meningitis

Suspected Fracture

Sepsis

Electric Shock

Neck or Back Injuries

Minor Injuries

Poisons

Bites & Stings

Drowning

Extreme Temperatures
You will receive a FREE Paediatric First Aid Manual – the most comprehensive available in the UK and have the option to take a FREE Annual Refresher Course.
The Course ends with a FREE / Optional 30-40 minute Anaphylaxis Training Course.